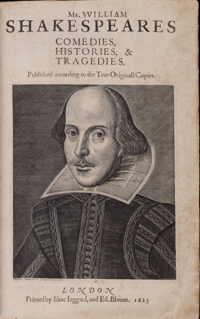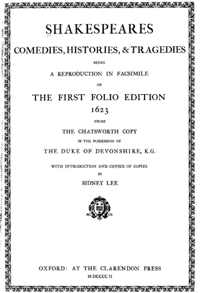 Mr. William Shakespeares Comedies, Histories, & Tragedies. Published according to the True Originall Copies. (London: Printed by Isaac Iaggard, and Ed. Blount. 1623). [HTML] and also a "parallel edition" with page images of the original on the left and HTML on the right.
The collection known as the "First Folio" was edited by friends of Shakespeare after his death and were organised into three groups: Comedies (14), Histories (10), and Tragedies (12); a "Second Folio" edition appeared in 1632 [facs. PDF]
Editor's Note: There are many facsimile copies of the First Folio online but few are ideal. Many have been poorly scanned with missing, skewed, faint, or distorted pages. I have tried to compile a "composite" PDF with the most readable pages from the best copies I have been able to find. See also
the American Library of Congress edition (2 pages facing; colour) [facs. PDF here and their website] and
the German Württembergische Landesbibliothek edition (clour, single page) [facs. PDF here and their website].
the 1902 Oxford edition: Shakespeare's Comedies, Histories, & Tragedies. Being a Reproduction in Facsimile of the First Folio Edition 1623 from the Chatsworth copy in the possession of the Duke of Devonshire, K.G. With Introduction and Census of Copies by Sidney Lee (Oxford: Clarendon Press, 1902). Black and white facs. PDF; colour version facs. PDF.