t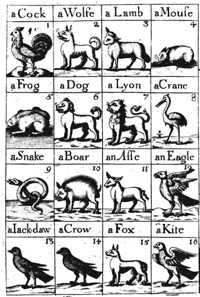 Æsop's Fables in English and Latin, Interlineary, for the Benefit of those who not having a Master, would Learn either of these Tongues. With Sculptures. [Edited by John Locke.] (London: A. & J. Churchil, 1703).
Unfortunately, I do not have an HTML version but only a facs. PDF.
Locke missed an opportunity here with his commenatray not to have a more "libertarian" edition of Aesop. He had recommended Aesap's fables in his treatise Some Thoughts Concerning Education (1693) as a way for children to learn both Latin and English composition. There was a collection of pictures of animals to help the early reader to spell
§ 156. When, by these gentle ways he begins to be able to read, some easy pleasant book, suited to his capacity, should be put into his hands, wherein the entertainment, that he finds, might draw him on, and reward his pains in reading; and yet not such as should fill his head with perfectly useless trumpery, or lay the principles of vice and folly. To this purpose I think Æsop's fables the best, which being stories apt to delight and entertain a child, may yet afford useful reflections to a grown man; and if his memory retain them all his life after, he will not repent to find them there, amongst his manly thoughts, and serious business. If his Æsop has pictures in it, it will entertain him much the better, and encourage him to read, when it carries the increase of knowledge with it; for such visible objects children hear talked of in vain, and without any satisfaction, whilst they have no ideas of them: those ideas being not to be had from sounds, but from the things themselves, or their pictures. And therefore, I think, as soon as he begins to spell, as many pictures of animals should be got him as can be found, with the printed names to them, which at the same time will invite him to read, and afford him matter of inquiry and knowledge. Reynard the fox is another book, I think, may be made use of to the same purpose. And if those about him will talk to him often about the stories he has read, and hear him tell them, it will, besides other advantages, add encouragement and delight to his reading, when he finds there is some use and pleasure in it. These baits seem wholly neglected in the ordinary method; and it is usually long before learners find any use or pleasure in reading, which may tempt them to it, and so take books only for fashionable amusements, or impertinent troubles, good for nothing.
So from Locke, we learn that both "Lyon" and "Lamb" begin with the letter L, but not that lions prey and kill lambs and that therefore "lambs" need to be very careful of predators like "lions" whether in animal or human form.