Making and Breaking the Image of King Charles I
| | |
| --- | --- |
| | |
| Charles Stuart (1600-1649) | |
Introduction
When he was in prison awaiting his sentence and then execution Charles Stuart (King Charles I) (1600-1649) wrote a defence of himself, his position, and his actions during the Civil Wars which he called "The Image of the King" ("Eikon Basilke" in Greek) which included some self-serving images, most notably a very detauiled Frontispiece.
The fuill title of the book was: Εἰκὼν Βασιλική (the Image of the King), The Pourtrature of His Sacred Majestie in His Solitudes and Sufferings (1649).
See the facs. PDF of the first edtion - with the frontispiece and one without. Also an HTML version of the 1904 edition by Almack.
There were two demolitions of this "Image of the king", one a satirical image suggesting he was a mere puppet of the Cathoilic Church, and one in print by Milton denouncing Charles as a tyrant who deserved his death, in Eikonoklastes (the destroyer of imgaes) [HTML] and The Tenure of Kings and Magistrates [HTML].
The Frontispiece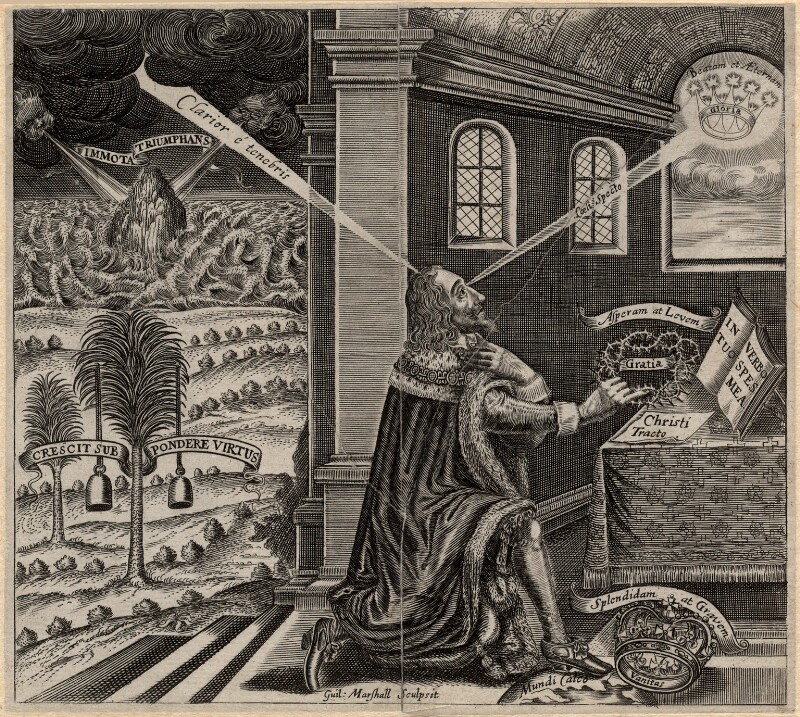 See also a slightly different and alarge version: larger size 3162x2717 pixels.
In one edition from 1649 there is this "Explanation of the Frontispiece":
A Sacred heat inspires my Soul to trie
If Pray'rs can give Me what the Warres denie,
Three Crowns distinctly here in order do
Present their objects to my knowing view,
Earths Crown lies humbled at my foot, disdain,
'Twas bright, but heavie, and withal but vain,
And now by Grace a Crown of Thorns I greet.
Sharp was this Crown, but not so sharp as sweet:
This was Christs crown, my book upon my bord
Explains my heart, My hope is in thy Word.
My Starrie Crown of Gloirie last I see,
As full of Blisse, as of Eternitie.
Now look behind, and midst most troubled skies
Behold, how clearer I from darknesse rise,
And stand unmov'd triumphant, like a Rock,
'Gainst all the waves, & winds tempestuous shock
So like the Psalm, which heaviest weights do trie,
Virtue opprest, doth grow more straight and high.

In another editon there is a Latin and English key to the emblems: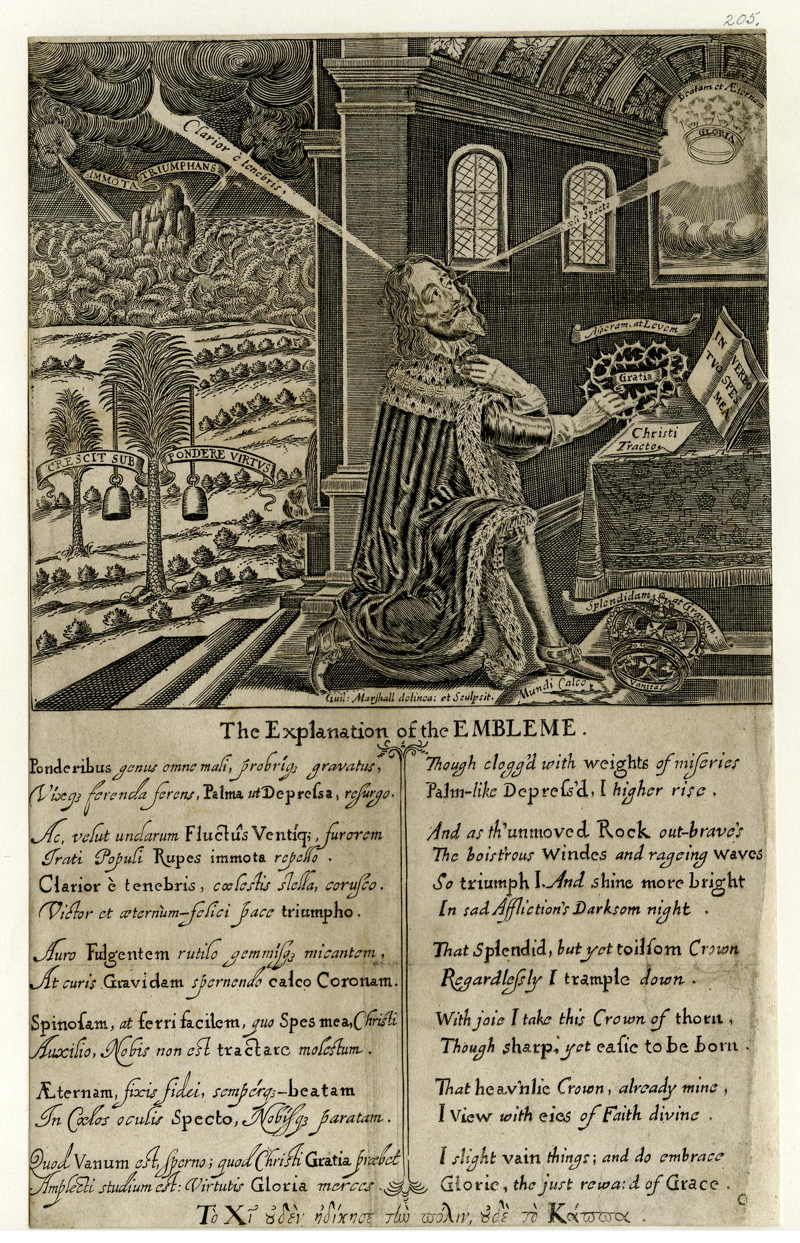 The English reads:
Though clogg'd with weights of miseries
Palm-like Depress'd, I higher rise.

And as th'unmoved Rock out-brave's
The boist'rous Windes and rageing waves
So triumph I. And shine more bright
In sad Affliction's Darksom night.

That Splendid, but yet toilsom Crown
Regardlessly I trample down.

With joie I take this Crown of thorn,
Though sharp, yet easy to be born.

That heavn'nly Crown, already mine,
I view with eies of Faith divine.

I slight vain things: and do embrace
Glorie, the just reward of Grace.
The Latin incrsiptions and labels in the large version of the Frontispiece are as follows in a literal translation:
IMMOTA, TRIVMPHANS — "Unmoved, Triumphant" (scroll around the rock);
Clarior é tenebris — "Brighter through the darkness" (beam from the clouds);
CRESCIT SUB PONDERE VIRTVS — "Virtue grows beneath weights" (scroll around the tree);
Beatam & Æternam — "Blessed and Eternal" (around the heavenly crown marked GLORIA ("Glory"); meant to be contrasted with:

Splendidam & Gravem — "Splendid and Heavy" (around the Crown of England, removed from the King's head and lying on the ground), with the motto Vanitas ("vanity"); and
Asperam & Levem — "Bitter and Light", the martyr's crown of thorns held by Charles; contains the motto Gratia ("grace");

Coeli Specto — "I look to Heaven";
IN VERBO TVO SPES MEA — "In Thy Word is My Hope";
Christi Tracto — "I entreat Christ" or "By the word of Christ";
Mundi Calco — "I tread on the world".
A Satirical Version of the Frontispiece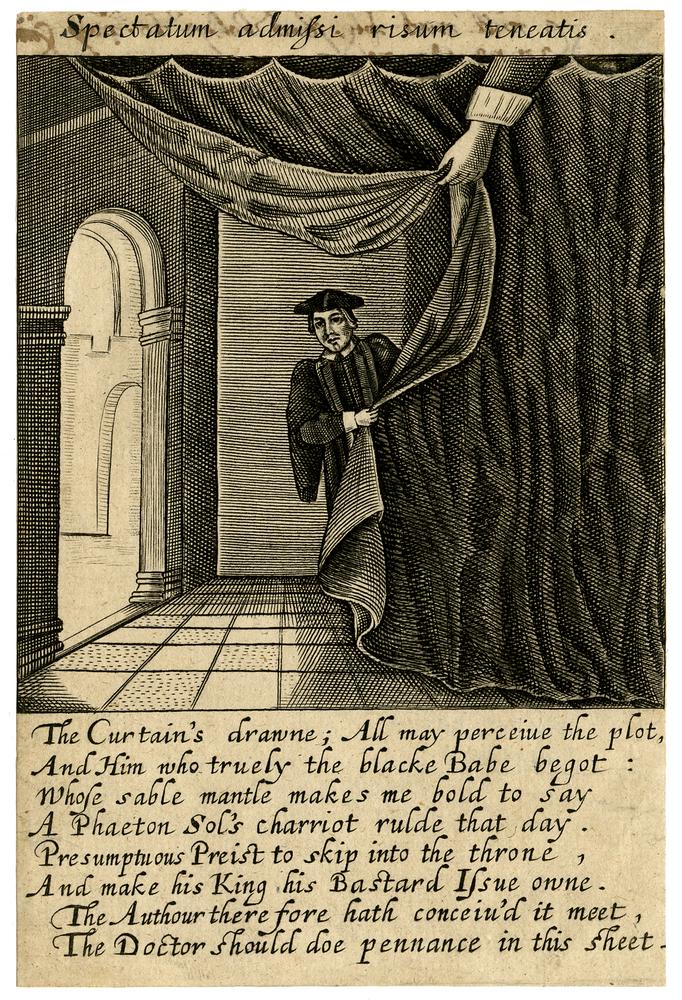 There is a satirical print held by the British Museum <https://www.britishmuseum.org/collection/object/P_P-2-43> from a book called Eikon alethine (The True Ikon or Image)) which mocks the idea that Charles had the brains to write a defense of his monarchy and that he had been manipulated as a puppet of the Church.
The image has the title "Spectatum admissi risum teneatis" (If you saw such a thing, could you restrain your laughter - a quote from Horace, Ars Poetica V) and reveals a cleric who had been hiding behind a curtain which has been pulled back by a hand reaching down from above (much like a hand in the Monty Python TV show). The poem below the image states:
The Curtain's drawne; All may perceive the plot,
And Him who truely the blacke Babe begot:
Whose sable mantle makes me bold to say
A Phaeton Sol's chariot ruled that day.
Presumptuous Priest to skip into the throne,
And make his King his Bastard Issue owne.
The Author therefore hath conceiv'd it meet,
The Doctor should doe pennance in this sheet.