JACQUES CALLOT (1592-1635) AND THE MISERIES OF THE THIRTY YEARS WAR
Updated: March 14, 2022
Contents
---
Source
These Study Guides on War and Art were originally prepared for a course entitled "Responses to War: An Intellectual and Cultural History" given in the Department of History at The University of Adelaide between 1989 and 1999.
Banner Art
| | |
| --- | --- |
| One of the Seven Deadly Sins - The Angry Warrior | Portrait of Callot by Vorsterman |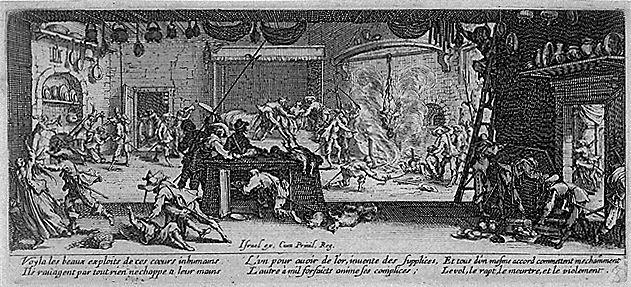 "Large Miseries of War" - "Plundering a Large Farmhouse"
---
Bibliography
A good online source for Callot's etchings (over 600) is FAMSF-Fine Arts Museums of San Francisco
Good on art and culture - Herbert Langer, The Thirty Years Wars, trans. C.SW.V. Salt (Dorset Press, 1990).
Peter Paret, Imagined Battles: Reflections of War in European Art (Chapel Hill: University of North Carolina Press, 1997). Chap. 3 "The Revenge of the Peasants," pp. 31-39.
Callot's Etchings, ed. Howard Daniel (New York: Dover Publications, 1974).
Jacques Callot. Prints and Related Drawings, ed. H. Diane Russell (Washington D.C.: National Gallery of Art, 1975), "The Military," pp. 207-269.
Georges Sadoul, Jacques Callot, miroir de son temps (Paris: Gallimard, 1969). Chapter 5 "Les misères et les malheurs de la guerre," pp. 271-355.
Jacques Callot, Das gesamte Werk Handzeichungen, ed. Thomas Schröder (Rogner und Bernhard).
J. Lieure, Jacques Callot. Catalog of the Graphic Works (New York: Collectors Editions, 1969). Vol. VII, pp. 653-1428.
Esther Averill, Eyes on the World: The Story and Work of Jacques Callot - His Gypsies, Beggars, Festivals, "Miseries of War" and other famous Etchings and Engravings together with an Account of his Days (New York: Funk and Wagnalls, 1969).
Daniel Ternois, L'art de Jacques Callot (Paris: F. de Noble, 1962).
Daniel Ternois, Jacques Callot: Catalogue complet de son oeuvre dessiné (Paris: F. de Noble, 1961).
---
Biography
JACQUES CALLOT (1592-1635)
The 17thC Lorraine (now part of France but then an independent Duchy) "French" engraver Callot lived through the 30 Years War and depicted aspects of the war in a series of etchings known as "The Miseries of War" (1632). Famous etcher who worked for some of the most illustrious men of the early 17th century - Cosimo II de'Medici, Grand Duke of Tuscany, the dukes of Lorraine, Louis XIII King of France, and Spanish Infanta, Isabella. Duchy of Lorraine (JC's homeland) small independent country at mercy of larger neighbours. German Protestant mercenary leader invaded Lorraine on behalf of French King Louis XIII in 1622. Contemporary of JC, Pierre Vuarin, described invasion in his journal:

In transit they killed everyone they encountered as if it were open warfare. They burnt villages raped girls and women, pillaged and damaged churches and altars, carried away everything of value and did unheard of damage even though His Highness (Duke Henri II) provisioned them. Further they cut growing corn as feed for their horses which they stabled in churches. Everywhere they did infinite damage, stealing furniture and livestock, which they managed to discover even when hidden in the remoteness of woods. For five whole days they (the Prince of Phalsbourg and his men who were supposed to be repelling the invaders) lived off the country, pillaging and extorting money like the enemy forces... The poor villagers returning to their villages after the passing of the soldiery picked up infections from human and animal carcasses left behind by the marauders. A third died from dissentry and other infectious diseases in the villages through which the soldiers had passed. (1)


"Small Miseries" - Revenge of the peasants (85K)
---
War and Art
a. The Siege of Breda (1627-1629)
The Siege of Breda (1627-9) in 6 sections -

Accepted commission from Infanta Isabella, Spanish regent of Lowlands to commemorate capture of Dutch fortress of Breda 1624-5. Futile military act which contributed to decline of Spanish. JC visited Breda in 1625 and in 1629 6 plates of "Siege of Breda" appeared. Daniel describes it as "one of the greatest anti-war works ever conceived by an artist." (1).

JC new combination of arts of cartography and scenography (perspective scenes). Military maps showed fortifications and troop deployments. To this JC added striking visually cohesive scene with placement of soldiers engaged in various activities in foreground. More technical features in vast background. Spinola, commander-in-chief of the Spanish forces in the Netherlands, laid siege to Breda, in Northern Brabant, a fortified town confluence of Merk and Aa rivers, August 1624. Town protected roads to Utrecht and Amsterdam. Dutch army resisted for 11 months. Surrended June 1625. JC commissioned by Queen Isabella to record siege. JC visited Breda July 1627. Research JC did for "Siege" etching in Lorraine, Netherlands and France led him to confront horrors and destruction of war.


"Siege of Breda" - Part 5 (102K)

1. Howard Daniel, p. xxii
b. The Beggars and the Bohemians (or Gypsies)
JC depicted consequences of war on noncombatants caught up in 30 Years War in etchings "The Beggars", "The Bohemians" (or "Gypsies") (probably disbanded mercenaries, other veterans, deserters, and camp followers) and also material which would be used later in series of panels known as"The Miseries of War" and the large "Miseries of War" (1632-33).
c. Cavalry Combats (1632-34)
2 small etchings 1632-34. Anonymous cavalry battles. Contrast with huge siege etchings and pistol and sword fights. Use of pistols by cavalry new development during 30 Years War. Gustave Adolphus of Sweden sent cavalry armed with pistols into battle. First shoot enemy and then finish them off with swords.


War of the Pistols
d. Military Exercises
Didactic military books common at this time. JC imbues figures with sense of vitality and elegant movement more suited to show than actual combat. Shows drills with 3 kinds of weapons used at the time pike (used to protect those with firearms when reloading), musket, cannon. Also anachronistic use of halberd.
e. The Tortures and the Temptation of Anthony
f. "La Vie des Soldats"- The Small Miseries of War (1632-33)
France invaded Lorraine and attacked and pillaged Nancy 1633 and JC along with other citizens forced to swear oath of fealty to King Louis XIII. Produced 2 series of etchings "small" (6 plates) and "large" (18 plates) miseries of war composed 1632-33. "The Large Miseries of War" published in Paris in 1633 . Described by Dianne Russell as "pungent tableau of violence in which soldiers are, by turn, ruthless perpetrators or themselves hapless victims." (1).

Original title "la vie des soldats". Accurate reflection of life of soldier in 17th century. From enlistment to distribution of rewards by commander. Include fighting the enemy, destroying civilian property, murder and rape of civilians. Retaliation by civilians, punished as criminals by military. Veterans battered and mutilated, begging and dying.

1. Dianne Russell, p. xviii.
g. "La Vie des Soldats" - The Large Miseries of War (1632-33)
Large Miseries forms a story in panels. Shows recruitment of troops, battle, scenes of plunder and other crimes, then variety of punishments, hospital and dying soldiers, revenge by peasants, final scene distribution of legal rewards by prince. Expresses strong Christian view that wrongdoers will be punished directly by the Christian Prince or indirectly through the just actions of others (peasants' revenge). Expressed somewhat forlorn hope that in spite of chaos and lawlessness of 30 Years War, justice would triumph.

"The Large Miseries of War" show how injured and dying had been cared for centuries. None provided by armies in which they served. Left to fend for themselves. More died after battle than during from infection and ilness. In 2 etchings Callot shows this neglect and suffering:


"Large Miseries" - The Hanging (85K)
h. Other Works
---