Date: 12 May, 2015
"Who put the 'Bastiat' in the Bastiat Society?".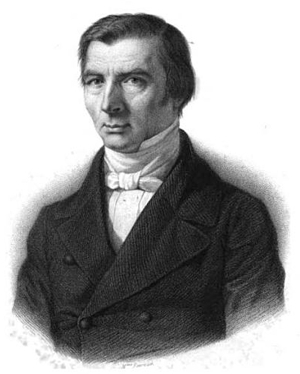 A talk given to the Bastiat Society of Nashville, TN. Text of Lecture HTML – Overhead Images PDF
Overview:
The extraordinary story of a middle-aged man (44) who comes to Paris from the obscurity of Gascony (SW France) and dazzles the Paris-based group of political economists (the "Guillaumin network") with his deep knowledge of economics, his ability as a writer, his wit and humour.
In the brief space of 6 years he writes a huge amount (3,000 pages / 6 volumes in the LF edition of his works) of brilliant economic journalism and innovative economic and social theory, and gets deeply involved in several important political "causes" of his day:
his economic journalism exposing the folly of tariffs (protectionism), government subsidies to industry, and government regulation in general (the Economic Sophisms (1845–47)
his participation in the free trade movement (1845–47) as head of the French Free Trade Association, editor of their journal Libre-Échange, and speaker at their meetings
his activity as an elected politician during the 1848 Revolution and Second Republic (as VP of the Finance Committee)
his opposition to the rise of socialism (1848–1850) with a series of anti-socialist pamphlets
his activity in the anti-war movement (International Friends of Peace Congress in Paris in Aug. 1849 at which FB gave a major speech; Victor Hugo was President)
his teaching and writing a treatise on economic theory (1847–50) the Economic Harmonies
He dies before he can complete his tasks, from a severe throat condition (possibly throat cancer) which kills him slowly and painfully at the age of 49.
Bastiat's ability to combine roles as "thinker/writer" and pro-liberty "activist" makes him unique in the classical liberal/libertarian tradition.