Wednesday - December 28, 2011
Welcome to David Hart's blog on Liberty and Power
[Delacroix, "Liberty leading the people" (1830)] [See a larger version]
In this blog I want to reflect on the interrelationships between culture, art, and politics as they impinge upon two things which greatly concern me, namely individual liberty and political power. I have two places where I put my longer "pictorial essays" as I call them: at my main website, where I have a section called Images of Liberty and Power; and at the Online Library of Liberty where there is a similar collection.This blog will allow me to do shorter postings as I come across interesting items.

[See a
larger image
with key to components]
The image I use for the banner comes from an essay and lecture I have on Pablo Picasso's great anti-war painting "Guernica" (1937) in which I analyze the various components in the painting and discuss what Picasso might have intended in using them. The essay was published as Guerra e Arte: Guernica. Pablo Picasso dalla guerra civile spagnola al Vietnam on an Italian art and culture website.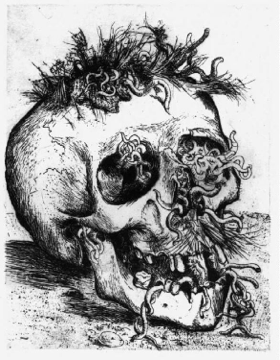 [Otto Dix, "The Skull" from "Der Krieg" (War) (1924)] [See a larger image]
You might also find some of my study guides on war and art interesting as they cover related themes.