Sunday - July 01, 2012
The ANZAC Book (1916): Part III - An ANZAC Alphabet (Henderson)
The Anzac Book. Written and Illustrated in Gallipoli by The Men of Anzac. For the benefit of Patriotic Funds connected with the A.& N.Z.A.C. (London, New York, Toronto and Melbourne, 1916). Introduction by Sir W.R. Birdwood, pp. ix-x (ANZAC December 19, 1915). "Editor's Note" by The ANZAC Book Staff (Aegean Sea, December 29, 1915).
"An ANZAC Alphabet" by Henderson is one of the best loved illustrations in the ANZAC Book (pp. 115-18). It is a 4 page rhyming poem based upon the letters of the alphabet with rather crude illustrations of each letter of the alphabet along with a two line poem which illustrates various aspects of the soldiers' life at Gallipoli. This was not the only ANZAC alphabet which appeared in the ANZAC Book A second one "Another Attempt at an ANZAC Alphabet" (by "Ubique" [Latin for "everywhere"]) appeared a few pages later (pp. 146-47) but it was not illustrated and is less well known. It takes a roughly chronological approach to relating his experiences at Gallipoli and focuses more on the everyday hardships and fear faced by the soldiers.
I will display the Alphabets in three separate posts: a general overview of both; and a separate one for each of the Alphabets. The Henderson Alphabet will contain many images - of each page in the ANZAC Book and then the individual letters of the alphabet.
The Henderson ANZAC Alphabet: An ANZAC Alphabet, by J.W.S. Henderson, R.G.A. [pp. 115-18].
First I will show images of the pages as they appeared in the original book, then images of the individual letters and their accompanying poem. Please see the previous post for a text only version of the poem.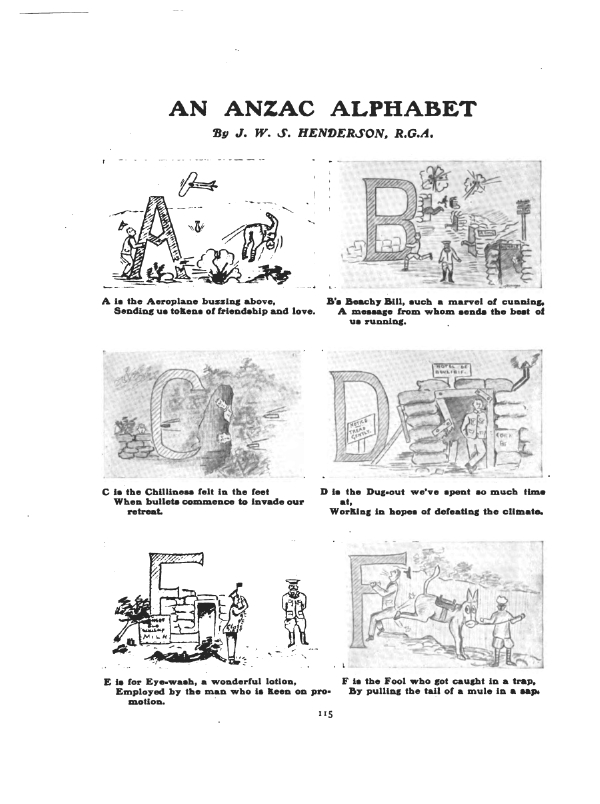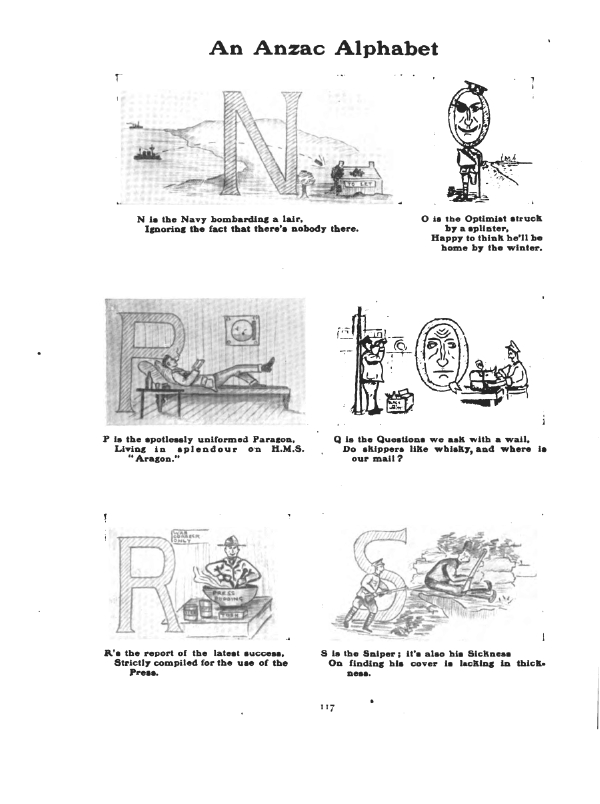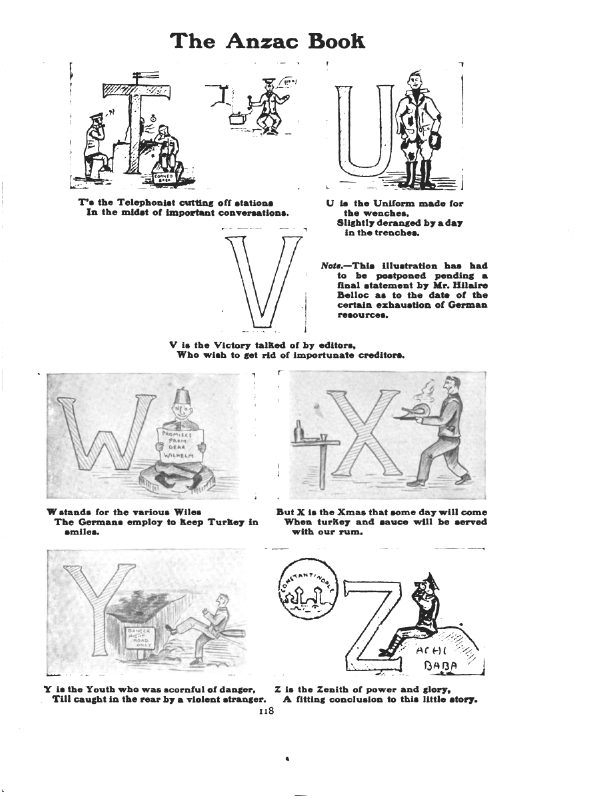 The Individual Letters and their Accompanying Poem